Emergency Panties
Individually packed seamless underwear kits include everything you need to feel fresh, clean and confidant when away from home. These tiny little kits even include an individually wrapped fresh wipe and pantyliner! The underwear is seamless, re-usable, pre-washed and super comfortable; perfect for On-The-Go.
SHOP NOW
Life is Unpredictable, Stay Prepared!
Panty Fresh® is super compact, lightweight and a must carry everyday essential item. So be sure to toss this ultra-convenient kit in your purse, travel bags, gym bags, car and anywhere else you can think of; just as you would with your chapstick and tampon so you're always prepared for every situation.
SHOP NOW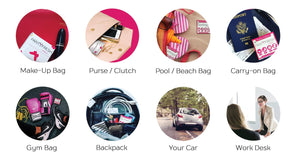 Never Get Caught Off Guard Again!
Flight Cancellations? Long layovers? Lost Luggage? Surprise monthly visit?  Laughed or sneezed too hard? Busy on the go mom? Working late? Sensitive pregnancy bladder?  Daughter got her first period at school? Feeling extra sweaty from the heat?  Last minute change of plans? No time to take a shower? Unplanned sleepovers? About to get lucky? Doing the walk of shame?
We don't judge! No matter how life decides to surprise you, we want you to feel fresh, clean & confidant anytime, anywhere!
SHOP NOW
A Must Have Travel Item - Panty Fresh
On the Go Emergency Thong Underwear kits by Panty Fresh
On the Go Emergency Bikini Underwear kit 3-Packs
Sale price
$30.00
Regular price
$38.97
Full details →
---
Share this Product
On the Go Emergency Thong Underwear kit 3-Packs
Panty Fresh and the White Dress